Susan Whitall is an award-winning journalist, and a former writer and editor at the iconic Creem Magazine, where she worked from 1975-'83. She is one of the few women to helm a rock magazine, in the '70s, or now.
She was inducted into the Michigan Journalism Hall of Fame in 2021.

She has produced three books, the most recent being Joni on Joni: Interviews and Encounters with Joni Mitchell (Chicago Review Press), due out Nov. 7, 2018. Joni on Joni is a collection of some of the most illuminating and personal interviews with Joni Mitchell by a variety of writers.
Library Journal reviewed Joni on Joni in its Oct. 1 edition:
This latest in the "Musicians in Their Own Words" series collects 27 newspaper, magazine, television, and radio interviews with singer-songwriter Mitchell (b. 1943). Editor Whitall (Women of Motown) prefaces each entry with context. The interviews span Mitchell's career from 1966, following the commercial success of her early folk albums and the polarizing jazz albums that ensued, to 2014. The first piece, a 1966 article from the Detroit News, is a vignette of her marriage to Chuck Mitchell and their shared career in Detroit's folk music scene. Cameron Crowe's 1979 Rolling Stone interview with Mitchell provides insight into an artist who takes direction from her muse, not her fans. Sylvie Simmons, biographer of Leonard Cohen (I'm Your Man), interviews Mitchell about her creative process in 1988. Later conversations offer a retrospective on the artist's career and biographical details. VERDICT This fascinating portrait of an artist is highly recommended for Mitchell's fans and readers interested in the creative ­process.
Whitall's previous books include Women of Motown, an oral history focusing on some of the Sound of Young America's notable female personalities, and Fever: Little Willie John's Fast Life, Mysterious Death and the Birth of Soul (Titan Books, 2011), a biography of the gifted, troubled R&B singer from Detroit.

Susan was born in Philadelphia, but spent her formative years in Detroit, where she saw the Beatles twice, and witnessed the rise of Motown firsthand. She graduated with a B.A. in English from Michigan State, focusing upon poetry, English literature and history. At Creem she worked with such talents as Lester Bangs, Jaan Uhelszki, and Robert Duncan during its "Almost Famous" heyday, and joined the Detroit News in 1983 as a feature writer. Currently Susan is freelancing for the News, and working on several book projects, including an updated version of Women of Motown scheduled for release in the summer of 2017.
Writing Fever drew me deeply into the amazing world of 50's and 60's R&B. Researching the tumultuous life of Little Willie John was part music journalism and part CSI. The process didn't end with the publication of the book, as new information has come to light. I hope to add this to a new edition of the book soon. All that's missing is a film adaptation of Fever!
Fresh Air / Fever review
Ed Ward, the eminent music historian and former Creem scribe, on NPR's Fresh Air reviewing Fever and Willie's prominent role in the birth of rock and roll.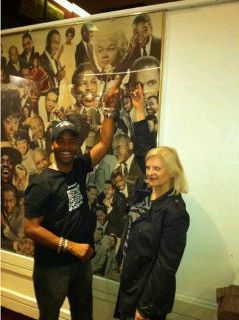 Willie's talent carried forward with his sons. His younger son, Keith, has been Stevie Wonder's only male backup singer for over 25 years. Here, Keith and I are in the lobby of the Apollo Theater in Harlem, in front of a mural of Little Willie John and other R&B greats.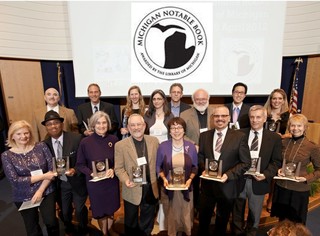 Fever was selected as a Michigan Notable Book for 2012 by the Library of Michigan. Kevin John and I (lower left) attended the ceremony in Lansing along with the other winners in April 2012.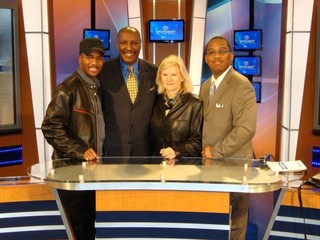 Left to right, Keith John, Chuck Stokes, Susan Whitall and Kevin John, on Chuck Stokes' Sunday morning show on Detroit's WXYZ-TV, to discuss Little Willie John and Fever.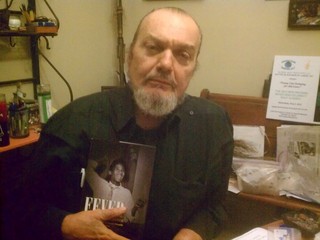 Dr. John, aka Mac Rebennack, with his personally inscribed copy of Fever, the Little Willie John biography. As a young musician in New Orleans, Mac played behind Willie on several gigs.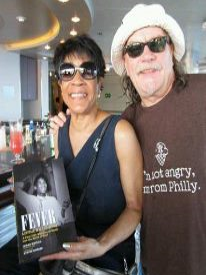 Interviewing Bettye LaVette for Fever was a treat. Willie helped her early in her career, when she lost her voice in a club in Miami. Here she is with her inscribed copy, along with my brother, Robert Jr. Whitall, publisher of Big City Blues.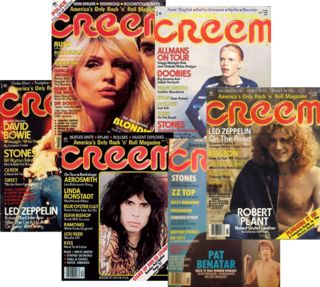 Fresh out of Michigan State with an English degree, I stumbled into the world's best job at Creem Magazine, in 1975.
Creem staff picture, circa 1975. The occasion was the anniversary of Extra Creem, our local supplement. L-R front, Harvey Zuppke, Jaan Uhelszki, Lester Bangs, who is holding young Eric Siegel. Doug Mumm, looking over Lester's shoulder, has his arm around my shoulder, and Nancy, our typesetter, is in front of me. Back row, the tall guys, L-R photographer Michael N. Marks, Thom Rae and Eric (Air-Wreck) Genheimer.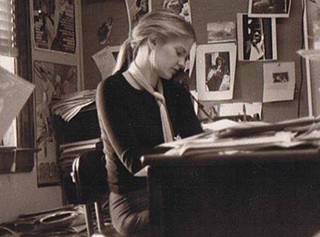 A day at the office, ca. 1976-'77. Bill Holdship, then a student at Michigan State, had written asking if he could visit the office, for a journalism class he was taking. Bill took these photos of me in the Creem editorial dept. Bill came to work for us several years later, in 1980.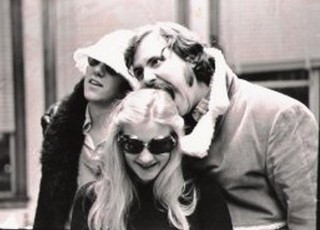 Here I am goofing off at 187 S. Woodward Ave., Creem's Birmingham offices, with Lester Bangs (right) and Robert Duncan (left). Photo by JoAnn Uhelszki, ca. 1975-'76.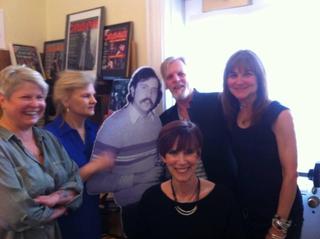 Creem staff reunion, 2015. L-R Chrissie Victor (mail kid, then Barry Kramer's assistant), me, the Lester Bangs stand-up, former editor Ben Edmonds (we miss him dearly) and former editor Jaan Uhelszki. In front, former front office secretary Leslie Alexander.
I left Creem to become a feature and entertainment writer at the Detroit News in 1983. I went from Features to the Sunday Magazine and back, covering everything from the inauguration of Barack Obama to Aretha Franklin's busy career. Some of my favorite interviews: Burt Bacharach, Stevie Wonder, Mick Jagger and of course, the Funk Brothers, whose adventures I covered when they were reunited for the film "Standing in the Shadows of Motown".
In addition to music, I write about a wide range of subjects, which was (usually) fun and interesting. Unfortunately, most older stories in the Detroit News archive are behind a paywall, but here are a few off the beaten path articles that survived.